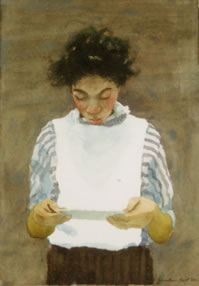 Jonathan Knight, LHD, NWS, is an accomplished artist in watercolors, oils, pastels and printmaking. He was featured in and on the magazine covers of Watercolor, an American Artist Publication (Fall, 1999 issue), as well as the cover of the Winter, 1995 issue. Other publications include Artist's Magazine, ARTnews, American Visions Magazine, American Art Review, Flash Art International n ° 225-Italy, Daytona Beach News Journal, Décor Magazine and IRAAA. Knight is also featured on the website AskArt.com.
He has been featured in newspaper articles such as the Boca News, Kansas City Star, Orlando Sentinel, Palm Beach Illustrated, Fort Lauderdale's Westside Gazette, and other media.
Dr. Knight holds signature memberships in numerous art societies, i.e., National Watercolor Society, Southern Watercolor Society, Mississippi Watercolor Society, Georgia Watercolor Society, San Diego Watercolor Society, Missouri Watercolor Society, and Kansas Watercolor Society to name a few. He is also a member of the Allied Artists of America, New York, NY.
Knight was bestowed an honorary doctorate of humane letters degree in March 1999 from the Art Institute of Fort Lauderdale (alma mater), where he served on the college's Board of Trustees for 5 terms. He was presented a key to the City of Fort Lauderdale, FL, in November 1998 and the City of Ormond Beach, FL in 1997.
His professional recognition includes the American Artists Professional League, New York, NY; The National Watercolor Society, Los Angeles, CA; and the Society of Illustrators, New York, NY. Other awards include the Houghton-Mifflin Award, Boston, MA; Florida Miniature Art Society, Clearwater, Fl; Miniature Painters, Sculptors, and Gravers Society, Washington, D.C.; and the San Diego Watercolor International Exhibition, San Diego, CA.
Two of his paintings were exhibited at the Studio Museum in Harlem - In addition, those paintings are now included in the published book, Black Romantic. His work has appeared in the nationally syndicated television show "Girlfriends." Early in his career he worked as an artist, corporate recruiter and creative researcher for Hallmark Cards, Inc. for a number of years prior to becoming a full time fine artist.
Dr. Knight's paintings are in the collections of JM Family Enterprises, Inc., Deerfield Beach, FL; Museum of Art, Fort Lauderdale, FL; Albrecht-Kemper Museum of Art, St. Joseph, MO; Nerman Museum of Contemporary Art, Overland Park, KS; Artist Showcase of the Palm Beaches, the Historic Jenkins House Multicultural Art Museum, West Palm Beach, FL; Overland Park Convention Center Fine Art Collection, Overland Park, KS; Sprint Corporate Fine Art Collection, Overland Park, KS; Palm Beach International Airport Collection, Palm Beach, FL; Anheuser Busch Corporate Collection, St. Louis, MO; Crescent Company, Wheeling, IL; U.S. Industries, West Palm Beach, FL and Hallmark Fine Art Collections, Kansas City, MO. His work is included in the art collection on the international award-winning yacht, Gallant Lady, owned by JM Family Enterprises, Inc, and Aflac Corporate Collection, the Robert & Mary Montgomery private art collection, and is also included in Bill Cosby's private art collection.
Dr. Knight won the 2004 Arts in Mississippi Award (Best of Show) in the Grand National Watercolor Exhibition, Jackson, MS, the Best of Show Award in the Arizona Aqueous XIX National Exhibition, Tubac, AZ, the 1998 Best of Show Award in the 5th Annual Miniature Art Show, Casper, WY, and the Award of Excellence in the San Diego Watercolor Society International exhibition. Knight is a multi-award recipient at the Annual Georgia Miniature Art Society International Exhibition, and received the 1996 William Meyerowitz Memorial Award at the 54th Audubon Artists Exhibition, NY, NY.
Knight was awarded the prestigious Bellsouth Telecommunications Award from the Grand National Watercolor Exhibition held at the Mississippi Museum of Art. He has been presented with the Founder's Award from the Southern Watercolor Society's 21st Annual Juried Exhibition, Talladega, FL. He has earned the top honors Emprise Bank Patron Purchase Award and the Beverly and Dick Hoover Award from the Kansas Watercolor Society's Annual Exhibition.
Dr. Knight was selected as the juror for the Missouri Watercolor National Exhibit held at the Winston Churchill Memorial, Fulton, MO, Judge of Awards for the SunFest 2000 National Art Competition, and Judge of Awards for the Miniature Art Society of Florida's 21st International Exhibition, Clearwater, FL, in 1996. In 1988, he received the Best of Show Award in this prestigious exhibition.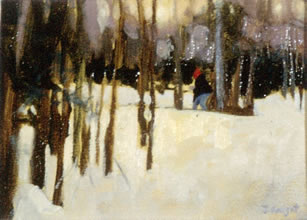 In July of 2002, Knight was included in a three-man exhibit at the Historic Jenkins House in Palm Beach, FL. In March 1998, Knight completed a successful solo exhibition at the Governors Club of the Palm Beaches, West Palm Beach, FL. Equally successful exhibitions were held at the Ormond Memorial Art Museum & Gardens, Ormond Beach, FL, in September 1997; the Armory Art Center, West Palm Beach, FL, in March 1996; the Cornell Museum in Delray Beach, FL, in September 1996; and at the Portfolio Gallery, St. Louis, MO. Knight's paintings have been featured in over 200 solo exhibitions.
Dr. Knight was the SunFest 2000 Commemorative Print Artist. His fine art coffee table book, The Creativity of Jonathan Knight, A Visual Dialogue, is available through Amazon.com, and via his website, www.jmknight.com
He has appeared on numerous television and radio shows, and news programs.